ATTENTION!
The ATC Human Stem Cell Core is currently undergoing reorganization. The Core Director has stepped down and taken another position outside of BCM.
The Core will remain operational but some of our core services may be limited in the next few months while the search is underway for a new Core Director.
During this interim, please direct your specific questions or requests to the following people using the core email provided:
Human Stem Cell Core Team: atc-stemcellcore@bcm.edu
For iPS cell line derivation and other cell culture services - Ms. Hyekyung Park.
For Mycoplasma testing and PBMC isolation - Ms. Michaela McCright.
For help with CRISPR design - Dr. Dan Liu.
ATC Administration:
For general ATC iLab inquiries, please contact Ms. Myeshia Brown. Myeshia.Brown@bcm.edu
For general core inquiries, please contact Dr. Dean Edwards. deane@bcm.edu
Thank you,
Advanced Technology Cores Administration
NEWS!
***The Core is now open!***
We are still in Phase 2!
We will have limited staff hours and no visitors will be allowed without an appointment in advance.
For project inquiries and/or appointment requests, send email to Hyekyung.Park@bcm.edu and Michaela.McCright@bcm.edu.

Please give us as much advance notice as possible for equipment sign ups. Mon through Fri between 9am and 4pm are preferable, as our core is normally locked.
Starting Oct. 1, 2020, we will offer reduced pricing for DLDCCC members. We are anticipating a price increase for FY22 (starting July 1, 2021), so please email us if you have any questions.
Email us before setting up a request.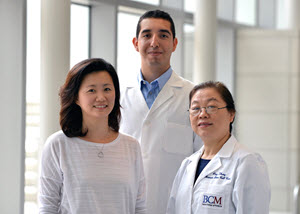 The HSCC team: (left to right) Jean, Jonathan, and Ping
Overview of Services
The Human Stem Cell Core (HSCC) provides a wide range of products and services related to human pluripotent stem cell research, as well as hands-on training classes for basic and advanced stem cell culture techniques. We offer cost-effective solutions to generate and characterize novel induced pluripotent stem (iPS) cells for in vitro disease modeling, employing "zero-footprint" technologies such as Sendai virus-based and episomal vector-based reprogramming. We also offer customized research support for experimental design and validation assays.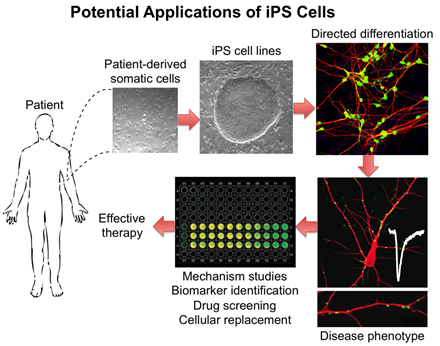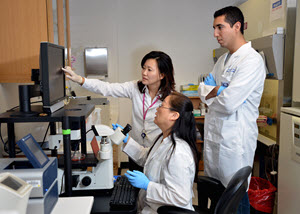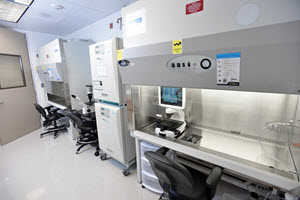 Major Equipment
EVOS XL and FL inverted microscope systems
Lonza 4D-Nucleofector gene delivery system
Beckman Coulter Allegra X-14R centrifuge
Applied Biosystems StepOnePlus Real-Time PCR system
MVE TEC 3000 LN2 cryostorage system
Major products & services
Various media and reagents to support human stem cell research
Human pluripotent stem cell culture and banking
Reprogramming of human somatic cells to iPS cell lines
Stem cell line characterization
Mycoplasma testing
Hands-on training classes and workshops
Consultation on experimental design
(In preparation) Support for CRISPR/Cas9-mediated genome editing of human stem cells
Leadership
Please contact the Human Stem Cell Team:
Location and hours of operation
| | |
| --- | --- |
| Hours | Location |
| 9:00 AM - 4:00 PM | One Baylor Plaza Suite T143, Houston, TX 77030 |
Click here for a map to Baylor College of Medicine.
Search available services:
View: by category alphabetically
►

Class (1)
Name
Description
Price

Class-A: Basic Training

This is the pricing per trainee for the Basics of Human Pluripotent Stem Cells hands-on training class. All materials are included.

Inquire

►

Frozen Cell Stocks (2)
Name
Description
Price

Frozen Stock-A: Human ES Cells

Pricing is per frozen stock vial. Please be advised that WiCell's hESCs (WA01, WA09) cells require an MTA from WiCell. A one-time technology transfer fee needs to be remitted to WiCell first. After obtaining WiCell's permission, we can perform the transfer. Subsequent transfers will still require WiCell's approval, but the technology transfer fee is usually waived.

Inquire

Frozen Stock-B: Human iPS Cells

Pricing is per frozen stock vial. BCM PI's need to sign an SLA with the HSCC, while external PI's need to sign an MTA with BCM.

Inquire

►

Reprogramming (1)
Name
Description
Price

Culture Service-A: Reprogramming

This is the pricing per sample successfully reprogrammed. Two iPSC clones are guaranteed per sample. Whenever possible, backup clones will be frozen as well.

Inquire